2019 - 4th Quarter Final Awards
Freebuy 2019 - 4th Quarter Awards
🎖 Points Title - GPeppin
🎖 Winnings Title - Damnthtsweet
🎖 Freebuy Queen - Runabout40

Bonanza 2019 - 4th Quarter Awards
🎖 Points Title - BenjiSnoopy
🎖 Winnings Title - Seaeyes
🎖 Bonanza Queen - BenjiSnoopy
Freebuy 4th Quarter
Points Title -- GPeppin had this in hand well before the quarter ended. Always steady, always lurking, Pepp hits a final table in 1 out of every 3 games --- translation? Points, points, points! And some good coin to go with it. Pepp has never won the Freebuy yet, but that is only a matter of time. Congrats buddy!!
Winnings Title -- Damnthtsweet pretty much had this one in hand way back in November when she took down an unprecedented 4 wins for the month. She was the Triple Crown winner too! VGGs girl and congrats!!
Freebuy Queen -- Runabout grabbed this baby with consistant deep play and a strong December finish. Like Pepp, she hits a final table in 1 out of 3 games as well. Her Triple Crown Win in December included 2 Freebuy wins. VGGs and Congrats girl!!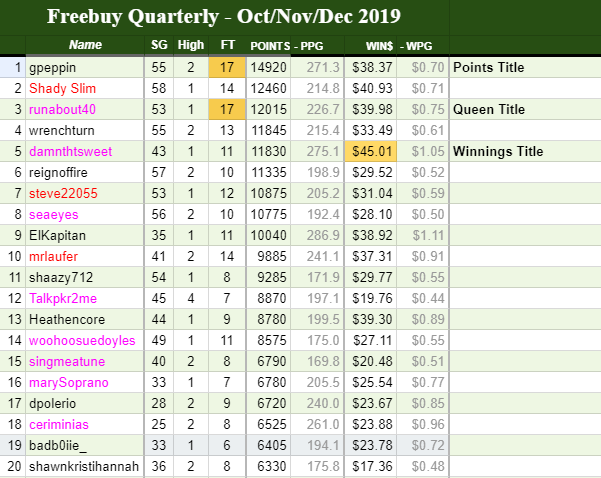 Bonanza 4th Quarter
Points Title & Bonanza Queen -- BenjiSnoopy takes home top honors with a strong, very strong December finish that ended with a 10 point lead overall! Congrats girl, and good luck next year!!
Winnings Title -- This Title goes to Seaeyes!! She had a strong December too. Overall she amassed 2 Wins, 5 2nds & 5 3rds and all the money those positions come with. VGGs girl!